Some spiritual gifts are less obvious than others. The gift of administration supernaturally empowers individuals to organize people and activities. A great example of this gift in the Old Testament was Joseph. Famed for his coat of many colors, Joseph was truly gifted by God to organize Egypt's response to Pharaoh's prophetic dream. Saint Peter and Saint Dominic also appear to have received this gift. Both founded organizations that have lasted into our own day (the Catholic Church and the Dominican Order).
People with the gift of administration are not necessarily "take charge" kind of people. Often, they work happily in the background, supporting the initiatives of more visible leaders. They are good at paperwork, details, and follow-up. Their joy comes from bringing order to events, people, and places.
If you have the gift of administration and organizing people and events is fun and rewarding for you, pray about how you should use this gift to build up the Church. It's not always glamorous, it is always laborious, but it's also a source of great blessing for both those with the gift and those they serve.
---
If you want to read more Disciples and Stewards reflections, check out the archive.
Jesus snatched me out of the darkness and saved me from complete madness. If you want to hear more of that story, check out Demoniac, now available on Amazon.
Blessings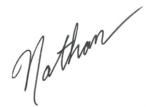 Disciples and Stewards