My 2nd daughter will be born in approximately 17 weeks. Nothing like a deadline to put a little fire in my belly. When I say "Mary is due at the end of November," it feels like a really long time. But when I say 17 weeks, what that really means is 17 Saturdays and whatever I can get done after I get home from work. Yikes! It's time to get moving.
Now that the trusses were up, the next big milestone was getting the house dried in. That means putting shingles on the roof, house wrap around the exterior walls, and the windows installed. A house that is dried in is pretty much weatherproof and can sit that way for a while before the siding goes up on the outside.
Of course, this meant more time on the roof. So much fun. Yay. It's really not that bad. It's just not my favorite thing in the world. But sometimes a dad's gotta do what a dad's gotta do.
A Little on Edge.
Since we had already put the elephant skin on the roof at the last work party, the next step was installing the drip edge. Drip edge is a piece of shaped aluminum that goes along the edge of the roof that makes the water drip off instead of just running down the fascia.
I borrowed a roofing nail gun from a friend because I'm a big fan of power tools. I had calculated that I'd need about 6,000 nails to install all the shingles. Did I want to drive all of those nails by hand? No. I started on one corner of the addition and started working my way around the house with the drip edge. About halfway around, the nailgun started hissing like an angry water moccasin. Oh no! Sure enough, the main seal had blown out and it was out of commission.
I had about 6,870 wire welded roofing nails for use with a nail gun, but no regular roofing nails. Thankfully, I'd seen a video during my roof research that showed a guy using a coil of nails with a hammer. You just turn the last nail on the coil 90 degrees from the other nails and then use the coil to hold it in place while you hit it with a hammer. It worked, but it seriously slowed down my progress.
The other thing that slowed my progress was that I was working on a ladder so that I could work up rather than leaning down over the edge. I had to move the ladder and reposition blocks on the uneven ground every three feet or so.
After the drip edge, starter shingles are placed over the edge with a slight overhang. These shingles help the other shingles stick to the edge of the roof. I didn't even manage to get the starter shingles all the way around before I had to stop for the day because it had gotten too hot.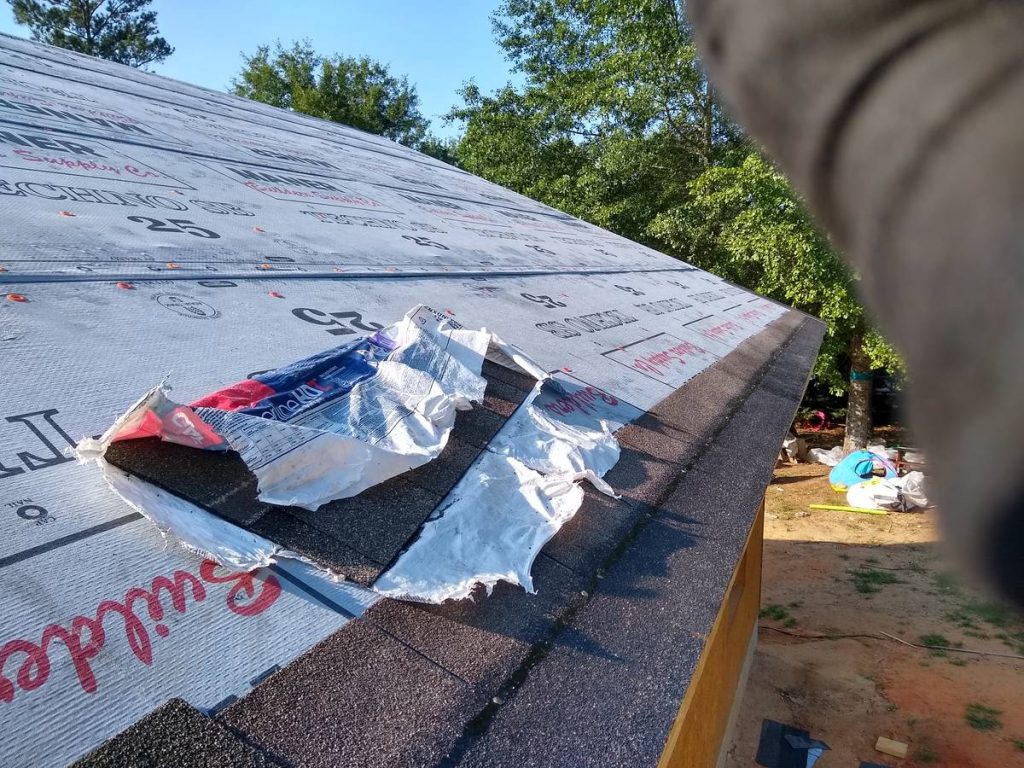 Hammer Time.
The next day I had some assistance. Four young men answered my call for help. I started an hour or so before they got there, so I was able to start the first course of shingles. I worked from a ladder on the ground so I could reach up instead of leaning down over the edge. I know that it was not the fastest way to do it, but it made me more peaceful.
By the time my help arrived, I had mostly completed four rows of shingles, all nailing by hand. These guys were great. They talked and joked with me the whole time. One cool thing about my helpers is that I've known two of them for close to 15 years because they grew up in Alleluia. I'm good friends with thier parents and I've known them since they were in elementary school. I've watched them grow through middle school, high school, and now one's in college and the other's an electrician's apprentice. It's cool to have relationships that go that deep.
Hand shingling makes slow going, so we only got a little less than a third of the way up the side of one roof before it got too hot to continue. I needed power tools! I went on eBay and ordered a roofing nailer because it's way cheaper than buying a new one. I also tracked down the parts that I needed to repair the other roofing nailer that I had borrowed. I like to return tools in working order.
Nathan of Brown and Blue Gables.
Waiting for tools meant that I had a few days before I could get back on the roof. Hand nailing was just too slow to justify the time if I could be doing something else that needed doing. And until this project is done, there is ALWAYS something that needs doing.
I decided to close up the gable ends with plywood on both sides of the house. This was not a terribly huge project, but it did involve cutting and hauling pieces of plywood up a ladder to nail them into the trusses.
On the front side of the house, I learned the importance of nailing boards in the correct order. After putting the two triangle pieces up on each side, I tried to put up the third panel in the middle. It didn't fit. It was just a hair too long to squeeze in between the two pieces already in place. I tried to pound it into place with a hammer, but the hammer just shredded the plywood.
I finally concluded that the only way to get it to fit was to come around from the inside and run the Sawzall down the joint to take off a sliver of wood so it would fit. I cut off a little more than I intended, but I was able to cover it all with heavy rubber flashing tape to make my marginal carpentry invisible to the naked eye.
Then it happened. When I was installing the top little triangle, I got a little bit rushed and stepped off the ladder too soon. Instead of being two feet off the ground like I thought I was, I was maybe 4-5 feet off the ground. I landed on the ball of my left foot and didn't notice any problems right away. But later that day, it started to hurt. I pushed through and finished the second gable, but by nightfall I limped pretty badly.
I also managed to tape all of the plywood seams to keep the water from soaking into the edges of the plywood. It's part of the overall waterproofing plan for the structure.
Boys Love Demolition.
Another little project that could be handled during the week was removing the stovepipe from the wall. We'd removed the chimney from my wood burning stove before we poured the slab, but left the terra cotta and stove pipe combo that passed through the exterior wall.
More hammer time. As soon as I started whacking away at the terra cotta, Joseph wanted to help. He got some ear muffs so that the loud sound wouldn't hurt his ears, and he went to town. He hammered away for 5-10 minutes before stopping and saying, "Daddy, this is hard!"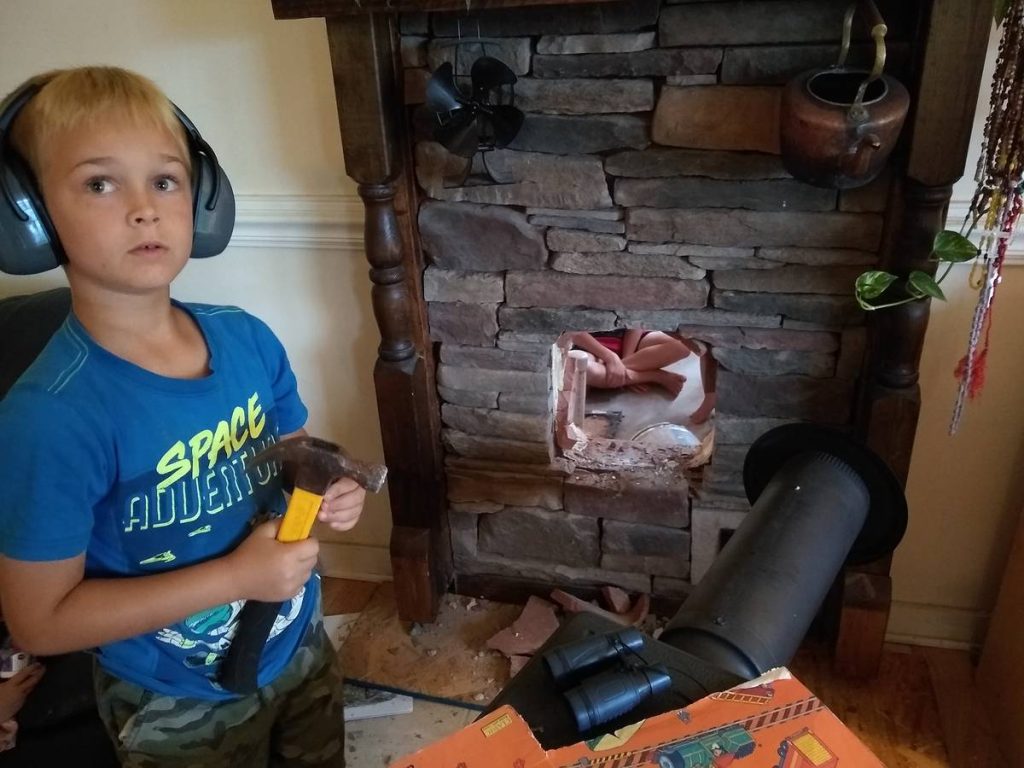 I finished the job and gave the kids some time to enjoy having a secret entrance into our living room. They had a big time. Meanwhile, I cut pieces of plywood to block up the hole and seal my house to the elements again.
Back on the Roof.
My new nailer came in and I organized another work party for Saturday, July 16th. That morning, I woke up at about 4:00 AM and couldn't fall back to sleep. I planned on covering the valleys, which is the 'V' where the two roof lines meet. and I didn't know what I was doing. For the next two hours, I lay awake in bed, running the scenarios through my mind. My foot still hurt, but I'd decided that I didn't have time for it to be broken. I took some Advil and said a prayer.
As the sun came up, I started carrying bundles of shingles onto the roof. I used architectural shingles, which are beautiful and durable, but boy, are they heavy. Each bundle weighs about 80 pounds. That doesn't sound too bad until you think about lifting them up on your shoulder and carrying them up a ladder to the peak of a roof. My friend Nick Almeter came to help carry shingles, which made a huge difference.
I then started removing shingles from my existing house. The trick with tying the two roofs together is taking off the first shingle in each course from the edge of the roof up to the ridge. This was harder than I thought it would be because the shingles stuck together. Each one has a bead of tar that attaches to the shingle below it. The shingles also have a tendency to tear if you're not careful, so I had to go very slowly and not try to force the separation.
By the time my helpers arrived, I had cleared the way for new shingles on one side of my existing house. I only had one functional nail gun, so I kept that on my side for doing the valley. My buddy Joe Almeter jumped in and helped me to tie in the new shingles and run a new line all the way across the valley. The shingles have to cover twelve inches on either side of the valley to make a solid water seal. Measuring and cutting the shingles to position them correctly took a long time.
Meanwhile, a few guys worked on the other side of the roof, nailing by hand. My father-in-law Jerry, God bless him, came and shingled for a couple of hours.
With Joe and I steadily working, we managed to finish the valley in a few hours. It wasn't perfect… I noticed one shingle in the middle that is upside down, but it looked like I had managed to tie it into the existing roof without too much problem.
Then my dentist showed up. His name is Eric Sterett, and he's also a member of the community. Before he went to dental school, he worked as a contractor, so he is basically way more qualified than I am to tackle this project. Or about anything else. He and I started cranking on the opposite side of the house. Now that we had a nail gun on that side, progress sped up considerably. At some point, I called Nick to come back and help, which he did so willingly.
It was getting close to noon, which means that it was getting HOT! Hot shingles burn the hands and feet and get all floppy. They also can get a little mushy, so you have to be careful not to tear them or leave footprints. Eric, Nick, and I were on a mission, though. We were going to finish that side before we quit for the day. Row by row, we put them down and nailed them into place. Finally, we made it to the ridgeline and could call it a day. We went downstairs and ate pulled pork sandwiches.
Wrapping the Present.
The following week, I worked to wrap the house in plastic. There's this great stuff, appropriately called 'house wrap' that lets moisture from the inside out, but prevents water from the outside from getting in. After work, I got Mary and Joseph to help by holding the big roll in place while I hammered in a bunch of little cap nails to hold the wrap in place.
I say a bunch. I mean hundreds. There's a reason that companies have invented pneumatic tools that will help you pop them into the side of a wall one after another. They want to save all that time. I, on the other hand, have more time than money, especially given the rate I pay myself, so I picked up my hammer and went after it.
I went around the entire addition with one single strip of house wrap, putting in a single row of nails to tack it into place. To do the gables, I had to roll out the rest of the wrap and mark it with a chalk line to cut it to fit correctly. I actually used a little trigonometry to figure out where to mark the sheet in order to get the right angles for the corners. It may be the first time I've ever actually used trigonometry in the 30 years since I learned it in high school.
The Final Roofing Push.
I was going to send Mary out of town for a weekend retreat, so that meant that I would have Friday through Monday to complete the roofing. Unfortunately, she started throwing up Thursday night and felt so terrible that she stayed in bed all day Friday instead of leaving for retreat. Thankfully, I was there to feed the kids and keep them out of her hair.
But I had a little crisis of my own. I ran out of work party juice. I don't think I can count the number of work parties I've had since this project began. So many friends have come over to help. It has been amazing. But this particular weekend, no one was around. Almost every house in my neighborhood was empty, because a bunch of them belong to the Almeter clan and went up to New York state for a big family reunion. Every other person I texted or called had some prior engagement. I had to fly solo.
So up on the roof I went. Friday, I worked on ripping out the shingles on the other side of our existing house so that I could tie in the new shingles and take them across the valley. I'd already done the other valley, so I was able to crank it out, finishing right as the sun got too hot to carry on.
By Friday night, Mary felt much better, so we decided that she would leave for her retreat the next morning. I really wanted her to go, so I was grateful that she was feeling better. The next morning I went back to work while she loaded up the van and hit the road. Saturday morning, I was on the new addition side of the roof, bringing it over to the valley from the opposite side.
Here, it turned out that not having any adult helpers was a blessing. Joseph, my intrepid 7-year-old, climbed up on the roof and expressed a desire to help. I gave him one side of the chalk line and got his help marking the center of the valley. I planned to fill the valley using a technique called 'cut valley,' where you cut the top shingles in a straight line going up the valley and then glue them to the bottom shingles with roofing tar. It looks really good, and is easier to do than weaving the two sides together, a technique I actually don't know how to do.
By Saturday night, I had finished the front valley up to the point where the two rooflines met. I was starting to feel a little concerned about whether I was going to be able to finish the project that weekend. I took Sunday off as a Sabbath rest, and I'm glad I did. My back was hurting. Saturday night, I'd soaked my back in icy hot before going to sleep and took a bunch of advil. It hurt enough that on Sunday morning, I had a hard time picking up Jonathan at Mass.
On Monday morning, I was still hurting. But I said a little prayer, "Jesus, I don't have time to be in pain right now. I've got to finish this project so that I move on to the next one. Please heal me and give me the strength I need to carry 10 bundles of shingles onto that roof."
Larry came early to help me for an hour or so putting in metal flashing around this weird joint where the two roofs didn't quite meet correctly. He has a hard time on roofs, so he went home after showing me how to install a ridge vent.
With a few days of roof work under my belt, I felt more confident. I started cranking it out. I had figured out a good system for the cut valleys by that point, so I was able to move much more quickly. I even figured out how to use chalk lines to fudge the second side of the roof so it would meet up with the shingles on the other side of the roof in a way that would not be terribly obvious to a casual observer. One thing I love about architectural shingles is that they hide mistakes really well.
I had to stop at about 11:30 because it got so hot that the shingles were melting under my feet. I started leaving foot prints and I could even feel the heat through my shoes. I was disappointed, but I took a couple of hours to rest and cool down. Keeping somewhat cool is an important thing for a desk jockey who is working on a roof in the middle of the hottest part of the Georgia summer.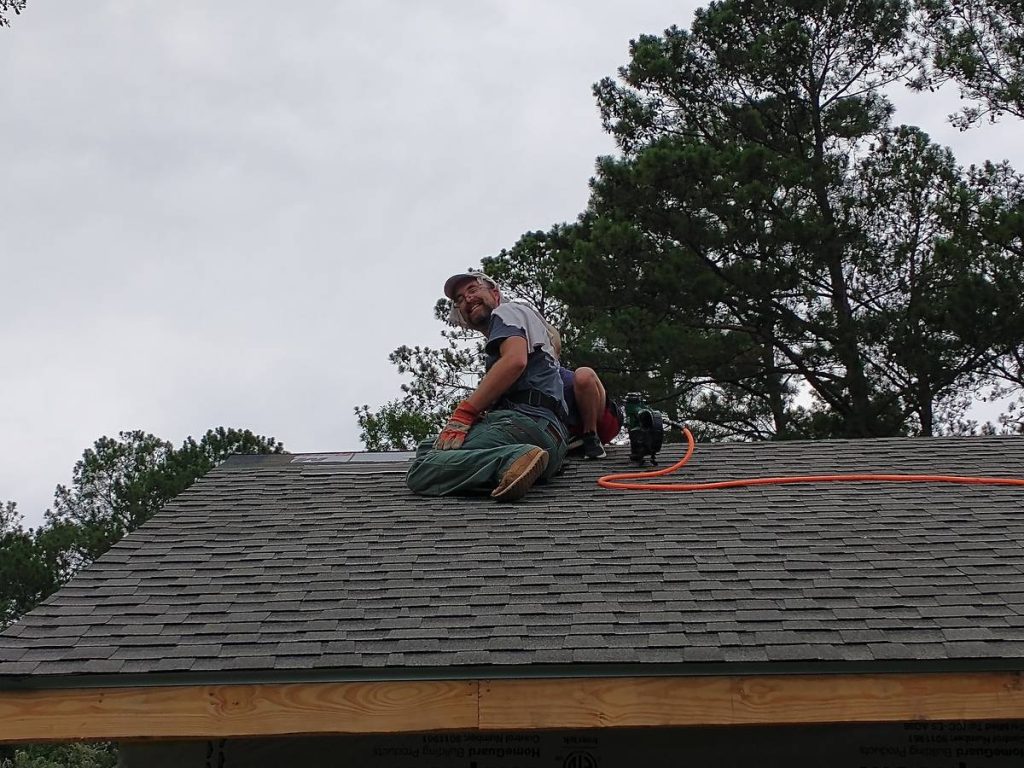 Mary was coming back that afternoon, so I really wanted to be done when she got home. Hot as it was, I didn't know how I was going to manage it. Then, miracle of miracles, around 2:00, cloud cover rolled in and the temperature dropped by about 15 degrees. I could get back up on the roof. I loaded up a few more bundles of shingles and climbed the ladder. Mary got home about 4:00 and I hadn't quite finished, but I was close. I kept going and called it a day after the last shingle was in place.
With a Nice Little Bow.
Tuesday and Wednesday, I did nothing. That weekend ruined me. Plus, I had the excuse of some afternoon thunder showers that I could use to recuperate from my working weekend. But I still had two important tasks to do before the task was officially done: sealing the valleys and installing the ridge vent.
Sealing the valley was sticky work, but not terribly hard. Four tubes of tar in a caulk gun did the trick. The ridge vent was a little more work. First I had to cut a two inch hole in the shingles and elephant skin from one side of the roof to the other. Then I installed about two feet of ridge cap shingles on either side of the roof. The ridge cap shingles are only about a foot wide and are designed to go over the peak of the roof.
Finally, I installed the plastic ridge vent along the length of the roof line. The ridge vent allows hot air to escape and keeps water out of the attic. The ridge vent also got covered with ridge cap shingles. This project took Thursday and Friday night, because I ran out of sunlight on Thursday. My wife had a bit of a problem with me working on the roof after dark. I call that wisdom.
Saturday, I woke up early and installed the windows with Larry. It ended up being much easier than I expected. After cutting the house wrap and stapling it to the window sill, we put down a water barrier of rubber flashing. Then we put the window in place, leveled it, and nailed it in place. Then I sealed around the edges with rubber flashing tape. By the lunch time, the addition had windows, which means that I had accomplished a major milestone. We were "dried in."
The Power of Persistence.
Roofing is not my favorite thing. I left quite a bit of my skin from my knees and knuckles on those shingles. I limped for at least a week. And my back took about a week to recover from carrying bundles and leaning over to place and nail shingles. But now the roof is done. It's dried in. Yesterday, it rained nearly two inches in an afternoon. The inside of the addition stayed dry as a bone. What a feeling of accomplishment!
There's something about choosing to suffer a little bit for the sake of some higher goal. I want to provide a place where my family can flourish. If that means that I have to endure a little bit of suffering in order to make that happen… ok. The suffering will pass, but I'm building something that will last. That's what being a dad is all about.
---
Everyone's generosity during this process has blown me away. The following people have helped to make this project a reality. I couldn't have gotten this far without them: Larry Harris, Mary Krupa, David Jude Krupa, Joseph Krupa, Catherine Krupa, Jonathan Krupa, Jerry Germann, Joe Almeter, Nick Almeter, Lawrence Almeter, Michael Almeter (his son), Michael Almeter (his cousin), Tag Bussey, Leo Suer, Ben Suer, Matthew Suer, Pat Molitor, Tom Molitor, Hannes Molitor, Pat Muller, Nick Wingate, David Johnson, Jordan Goodman, David McGee, Glen and the guys at Maner, David Germann, Tom Krupa, Joseph Krupa, Joseph Muller, Philip Hatfield, Miguel Melendez, Maddox, Jared Miller, Fr. Jacob Almeter, Anthony Almeter, Bob Visintainer, Ross Ott, Noah Ott, Max Molitor, Peter Molitor, Mike Hayes, Gabriel Hays, Kolbe Almeter, Luke Almeter, Charlie Almeter, Eric Sterett, and Gabriel Hayes.
If you don't have time or tools to donate, but would like to help make the House of Krupa a reality, a financial gift would be a great blessing. This is kind of like a do-it-yourself GoFundMe. DIY is my style.
If you want to read more of my adventures building the House of Krupa, check out the archive!
Jesus snatched me out of the darkness and saved me from complete madness. If you want to hear more of that story, check out Demoniac, now available on Amazon.
Blessings